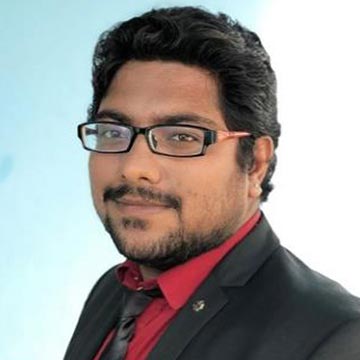 Dr. Shyam B. Nair
Department of Information Technology
Key Takeaways for a Student
Education is the one of the secret power to make your family, society, country to be proud of your achievement.
Qualification:
BCA, M.Sc. IT, PhD - Computer Science
Academic Experience:
Dr. Shyam B. Nair has more than 6 years of academic experience in teaching various software related courses, training students in research oriented works and also in the field of web and software development. Currently working as Head - School of Graduate Studies and Controller of Examinations at BlueCrest University College, Liberia
Industry Experience:
Dr. Shyam B. Nair has more than 5 Years of industrial experience in the Information Technology domain. He has worked as process executive at KeyStroke Pro Pvt Ltd, India followed by Full-Stack Developer at TYMK Softwares, India.
Awards / Accolades:
Best Faculty Award Given by Graduating class of Fall 2019.
Specific Subjects - Being taught:
Web Technology, Web Services, Advance Web Technology, Relational Database Design, System Analysis and Design, Programing Using C++, Object Oriented Programing Using Java, Software Engineering, Operating System, Digital System, Multimedia and its application, Advance Visual Programming, Visual Programming, IT Project Management, Data Communication Network.
Established / Outstanding Research / Projects Undertaken:
Research Article Publication- 4